It is well known that the Distributed Denial of Service Attacks thrive on the existence of numerous Netizens who are connected to the Internet and have not secured their facilities properly enabling the attackers plant trojans in these machines and carry out the distributed coordinated attack as they desire.
Recent incidents in India suggest that attackers are now eyeing on high traffic news paper websites to plant malicious codes for eventual attack on ordinary netizens who visit such websites.
Some time back Naavi.org had pointed out that Indian Express website had been used by one of their advertisers to divert the traffic to their website. Now it appears that Deccan Herald, a Bangalore based English daily has become a target of the malicious code writers.
See who is certifying that Deccan Herald is an "Attack Site". It is Google!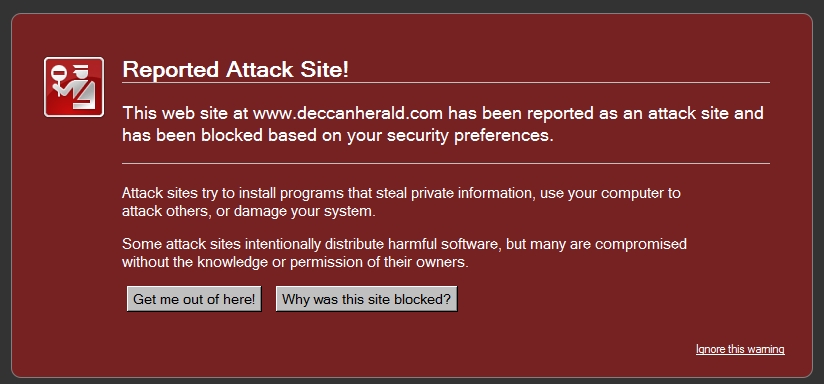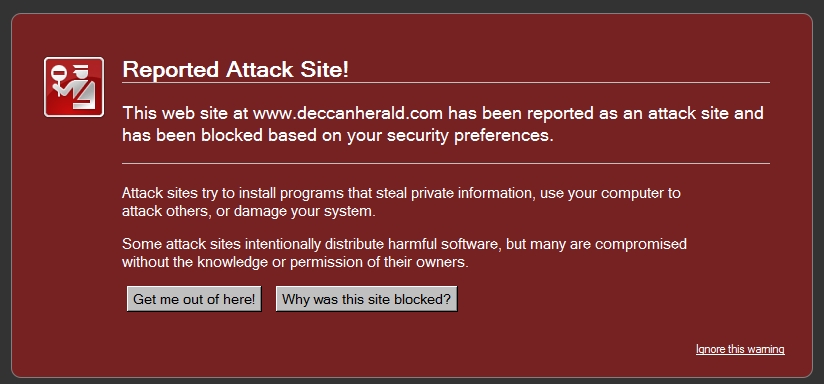 Recently, Mozilla Firefox released the version 3 of its browser and it has a feature to report security warnings from Google. This warning has emanated from such an advisory service. 
Going deeper into the report the advisory clearly says that .."visiting this web site may harm your computer" The advise is substantiated with facts.. "Of the 43 pages we tested on the site over the past 90 days, 4 page(s) resulted in malicious software being downloaded and installed without user consent."
The advisory further states that "Malicious software includes 2 scripting exploit(s). Successful infection resulted in an average of 3 new processes on the target machine. "
This is a serious charge which Deccan Herald should immediately attend to and rectify. Other news paper sites in India also need to tighten their web security measures so that their pages are not misused by the criminals.
It should be remembered that not attending to the alert would mean that Deccan Herald is not practicing "Due Diligence" and is therefore liable vicariously for any damages suffered by the visitors. 
Being "Cyber Law Compliant" is therefore the need of the hour for Deccan Herald. It would be interesting to  see how Deccan Herald reacts to this disclosure.
Naavi of Naavi.org