When Daimler proposed to Chrysler back in 1998, it was inconceivable to him that their unbridled passion could ever fizzle out or that their steamy dream team would ever break up as it now has with this messy divorce, filled with mutual mixed negative emotions and the occasional intricately planned murder plan (he was that close to doing the konk-her-on-the-head-with-the-ice-block number). Well, Scheiße passiert (stuff happens) buddy. Wake up and smell that weakly brewed American-style coffee.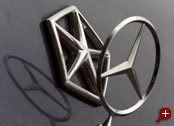 She was just no good. Everybody told you that from the start but you just wouldn't listen. You never had her under control. You just couldn't manage her. Nobody could yet. She burnt your money up faster than you could make it. And after billions of dollars of losses, you even get to pump in an additional dowry of net $700 million and promise to cover her $18 billion estimated health and pension liabilities just to convince the next best bozo to take her.
Sure, you can sugarcoat it and try and call this divorce "a new start" and all that, but everybody knows that it's really a new finish. It's over. It's the end of your crazy days of sowing wild oats. No more misguided floozy "acquisitions" and bimbo alliances for you. Word's got out and nobody will want to get near you now anyway. You're damaged goods, pal. And don't say we didn't tell you so because we did.
She certainly was pretty hot, though.
Come visit me at Observing Hermann…