Continued tensions between German Defense Ministry authorities and recently "cleared" actor Tom Cruise about the filming of his latest film in Berlin have led to mutual demonstrations of animosity and a veiled threat by Cruise to destroy parts of the city using an invisible death ray which emanates from the palm of his right hand.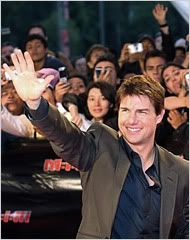 After the decision by Defense Ministry officials not to allow Cruise access to their sites to film parts of "Valkyrie," a story about the 1944 plot to kill Hitler, an enraged Cruise is purported to have said that he had "had it up to here" and was going to "take this thing to a new level", an obvious reference to the highest level of "clear" he recently obtained in the Church of Scientology. Being that he has already reached the highest level of "clear" humanly possibly, Scientology watchers everywhere believe that the only possible step higher is doing the death-ray-out-of-your-hand thing.
The clueless Germans, for their part, have been assuming all along that the levels being referred to here were the ones you reach when playing Donkey Kong. And that the German government has long been at odds with Scientology doesn't help matters in this matter, either. For some inexplicable reason, the Germans do not regard Scientology as a religion.
Berlin police are now even thinking about imposing a no-fly zone over the city for Cruise and his helicopter, fearing the worst should the actor choose to fire his merciless ray of death from an altitude even higher than the one he is already at now.
Come visit me at Observing Hermann…