Condi may be a talented pianist, but she is nonetheless worried that she may not be getting the chance to play first fiddle in the "reanimated" Middle East quartet concert tour beginning next month. During her meeting with German Foreign Minister Frank-Walter Steinmeier yesterday in Berlin, she expressed her hopes that representatives from the US, Russia and the EU would be meeting in Washington for rehearsal beginning early February, but later openly questioned the others' musical abilities in a private conversation with a half-empty bottle of Rotkäppchen Sekt (Little Red Riding Hood Champagne).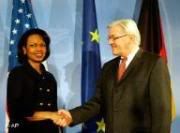 The Secretary (she hates that word) of State made her statements after having flown in for a two-day visit to Germany on her return from a six-country Middle East tour of her own and boy are her arms tired. Her arms are in fact so tired that she may have trouble warmly embracing Chancellor Merkel during the briefing she will be having to give her later on today.
Steinmeier, for his part, said he believed that the stalled "roadmap" (the peace concerto composed by quartet members back in 2003 which has yet to be performed – without interuption - in public) was still the best option for progress in the Middle East peace process and that Secretary Rice had no need to worry about anything as far as he was concerned. He will be playing the oboe.
Come visit me at Observing Hermann…