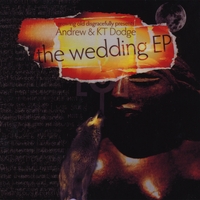 It is always a pleasure to review a fellow Blogger News writers work. Andrew Dodge is an interesting guy to say the least. He and his wife K.T. are best described as nomads, spending their time oscillating between London and the East Coast of the US. Andrew is the frontman for the very aptly named band Growing Old Disgracefully, he is also a published author. His latest book The Gathering Dark & Other Tales is a rather dark and satirical fantasy.
The Wedding is a very simple EP, containing only two songs, and is a celebration of their marriage last year.
Andrew handles the vocals on track one Found, which is a delightful song exhorting his wife. K. T. takes the lead on New Moon Woman. Interestingly enough Andrew had sent me a rough cut of New Moon Woman some time ago, so I had the opportunity to compare the two cuts. I assumed that they were from two different master tapes. Not so Andrew told me, just different mixes. It amazes me that two two mixes can be so different.
A very delightful CD, and one that may well mark a new direction musically for Andrew and K. T.
You can get your own copy of The Wedding from Amazon, take it out for a test drive, you will not be disappointed.
Simon Barrett