Caylee Anthony disappeared in mid-June 2008 but her mother, Casey Anthony didn't bother to report it until her own mother could no longer wait any longer so she made the 911 call herself.
In October 2008 Casey was arrested and charged with first degree murder and now the prosecution has even put the death penalty on the table for her.
Casey from the beginning said she left little Caylee with her Nanny, Zanaida Gonzalez on her way to work that morning and later when she returned to pick her up no one was around. She claimed that she spent the next 31 days doing her own investigation looking for her daughter. The odd thing here is how she did this. I mean I can see going from apartment to apartment asking everyone around if they had seen her daughter or going to every person known that knew the babysitter, but instead Casey was spotted several times out partying, or shopping at Target and even with her then boyfriend at Blockbusters renting movies for the night, which is the same night they claim Caylee was last seen. I mean come on now, I wasn't born yesterday. People grieve in different ways but to party and shop and have fun somewhere like this is not the actions of anyone grieving.
The so-called Nanny that Casey claims she left her daughter with has yet to be found but there is one woman named Zenaida that claims Casey's accusations has ruined her name and therefore has even found it difficult now to find a decent place to live with her children or find a job. She has filed a civil suit against Casey Anthony for defamation due to this.
Casey Anthony's defense team had asked a judge to drop this civil suit or at least postpone it until after her murder trial. Her civil attorney argued that it wasn't fair for Casey to have to defend herself in a civil suit before going to trial for murder. Sorry but I beg to differ here. She should have thought about this before she did the crime. Why should Zenaida Gonzales have to be put on hold while Casey doesn't have to answer to the charges against her until it is more convenient to her and her lawyers.
Luckily though, Judge Jose Rodriguez denied the motion to dismiss the charges. He ruled that since Zenaida's lawyers backed off from demanding Casey answering very specific questions about the nanny, it would not hurt her defense in the murder trial. So it looks like maybe sometimes soon Casey will have to face Zenaida in court.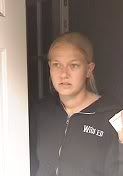 Casey is already going back to court on January 25, 2010 to face the check fraud charges hopefully soon so she is going to be a busy girl inside the courtroom in Orange County for the next year since her capital murder charge is set to start sometimes in the summer of 2010. Anthony has been accused of stealing hundreds of dollars worth of checks from her friend Amy Huizenga. A pretrial hearing will be held on December 18, 2009.
Meanwhile it seems that the rest of the Anthony family was out enjoying the money they apparently made off their granddaughter's death from the earlier show they did on CBS's 48 Hours Mystery. It has been confirmed by an Anthony family attorney that CBS paid the Anthony's a licensing fee for the use of family photos used in the pre-taped segment.
They all went on a weekend Caribbean Cruise to the Bahamas. When they got off the ship they were quite annoyed to find a video photographer there. Cindy snapped at the guy telling him, "We're trying to have a nice vacation. Will you please leave us alone now. The vacation was from you guys." The photographer told her he was really sorry and he understood. What does the ever so gracious Cindy say back? "No you don't! Shut your camera off!" I find this to be kind of strange behavior but then again we are talking about the Anthony's. 
The defense team is asking for a change in venue for the murder trial because of all the negative publicity that the media has given the case but it is funny that every time we turn around it is one of the Anthony's or someone from the defense team discussing the case on TV. How can they blame the media when they are the ones going public with it. I rarely ever see Zenaida Gonzalez or Amy Huizenga on a National TV show telling their side of the story in their charges against Casey, if ever. If you stop and think about it is only Casey's side out telling the story. I rarely see the prosecution team being flown to New York City to do a morning show to talk about the case. So now they have the nerve to ask for a change of venue on these grounds which I think is absurd.
Jan Barrett