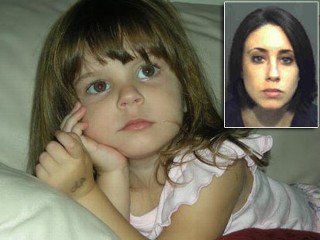 Friday night in the middle of a protest organized outside the Anthony home a slew of police officers and detectives rolled in and arrested Casey Anthony on charges not related to her missing 3 year old daughter, Caylee Anthony. She was arrested on charges of uttering a forged instrument, fraudulent use of personal information and petty theft which holds her under a $3000 bond.
Larry Garrison, the Anthony family spokesman called this new arrest a three ring circus. "Casey's attorney, Jose Baez, diligently tried to contact authorities to surrender his client," said Garrison. "The arrest and the drama at the Anthony home tonight only added insult upon injury for the family of the kidnapped child."
Leonard Padilla is the Bounty Hunter responsible for getting Casey out of jail from her $500,000 bond. After the 400 plus page document was released and he read it, he seemed to come to realize that perhaps this case isn't what he had hoped it would be and considered revoking the bond. He said he first thought little Caylee was still alive and he only wanted to find her. He said he honestly thought if he could get her out of jail he would get her to talk to him and they would find the missing child. He said that Casey said if they got her out of jail she would help them find her. He admitted he now thinks Caylee is no longer alive.
Padilla admitted in front of TV cameras that Casey never talked to him at all about her daughter after he arranged to have her bailed out. Her attorney, Jose Baez wouldn't let him near her to talk to her once they had her out of jail. Thursday night he said on CNN's Nancy Grace Show that there would be nothing they could say to make him change his mind about revoking the bond and said she would be back in jail by Saturday morning.
When Friday morning came, everyone was waiting for him to start the procedure to put Casey Anthony behind bars once again. Suddenly out of no where and after a meeting with Jose Baez, Leonard Padilla announced that he had changed his mind and would no longer have the bond revoked. He said that Jose Baez asked him what it would take for him not to do this to Casey. Padilla told him they would need more security. Baez guaranteed more security so Padilla decided not to do it.
Now this morning according to abcnews.go.com it was announced that the $500,000 bond posted for the charges related to Casey's missing daughter have been rescinded which makes this unlikely now that she will be released from jail.
Leonard Padilla's nephew, Tony Padilla said that the bond was surrendered based on the latest charges, new evidence and "heightened security concerns" that he didn't describe. Personally I don't care why they finally did it, as long as she is back in jail. She wouldn't have talked while she was out. Yes she had limited freedom since she was out but yet she didn't have someone waiting on her hand and foot while in jail.
I say if she wants to remain quiet, keep her in solitaire confinement and don't let her have visitors other than her attorney and only him because by law they have to let him talk to her. She will get tired of no TV, no computer, no phone, no maid service, no cook, no six hour visits in your attorney's office and no camera to air you live picture on the TV and internet. She won't like it if they keep all this away from her. Eventually she would crack and if she didn't then she truly must need professional help.
Caylee needs to be found so she can rest in peace if indeed she is no longer on this earth. If she is by some miracle still alive she needs to be found and put in the home of a sane family that will give her a happy loving home and not back with a mother that is insanely jealous of her. Caylee we haven't given up on finding you. Our prayers are still with you. May God Bless you honey!
Jan Barrett