After the unbelievably successful Daimler-Chrysler marriage, a small group of currently drunken Rhineland carneval enthusiasts has begun petitioning for a merger between a number of famous German carneval processions and the Macy's Thanksgiving Day Parade. Word has it that the consolidated cavalcade will then be held sometime in June, perhaps on a small, rocky island just off the coast of Iceland.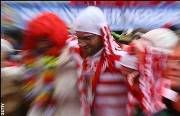 One bombed spokesman for the plastered and relatively farsighted merrymakers, a Daimler-Chrysler shareholder himself, loudly repeated again and again that such a merger would offer many meaningful strategic opportunities for both of the party cultures, core technologies and existing marketing models involved. 
He and his boozed up buddies are convinced that such a move would lead to a very synergistic combination of strengths which would eventually give the carnival drunks in charge the capability to challenge for the leadership position in the highly-competitive global drunken bash market. Then the spokesman abruptly stopped speaking, stepped back, and threw up all over his shoes.
Other carneval drunks quickly raised concerns about monopolistic drinking practices, ruthless liquor business techniques and the subversion of standing debauchery ethics, should the proposed merger be allowed to go ahead. But a second spokesman for the group assured those listening that every precaution will be taken to ensure that this merger will work at least as well as the Daimler-Chrysler one did. Then this guy threw up all over himself, too.
Come visit me at Observing Hermann…