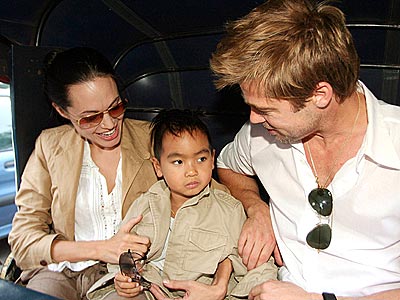 By Honey Gillard
ONE of Hollywoods most profound couples Brad Pitt and Angelina Jolie are set to kick off the Cannes Film Festival in France on May 16 with film 'A Mighty Heart', produced by Pitt's company, Plan B.
Jolie, who plays Mariane Pearl, the widow of slain Wall Street Journal reporter Daniel Pearl in the film says: "The story unfolds like a mystery. You've got people collecting clues and trying to solve what happened. But it's also very real and personal. We didn't want it to be too melodramatic or too polished. We didn't want it to be a typical movie."
Co-star Dan Futterman says, "It would usually take about five minutes before people would figure out that it was Angelina. So we ended up shooting a lot of the exterior stuff in five-minute increments."
IMDB.com depicts the plot of  'A Mighty Heart': 'Mariane Pearl (Jolie) embarks on a frantic search to locate her journalist husband, Daniel, when he goes missing in Pakistan.'
The film will be released in the US on limited release on June 22 and will be in Australian cinemas on October 18. For further dates and information on the film click here.
To read more from me, Honey, visit my blog – honeyz818.wordpress.com
Source: Starpulse