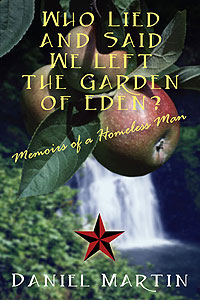 There were about 744,000 homeless people in the United States in 2005, according to the first national estimate in ten years.  Chances are, that number will increase dramatically as our economy slowly spirals into decline.  
Like it or not, homeless people are an integral part of the urban fabric; an ubiquitous legion of faceless persons who pass through our daily lives scarcely seen and mostly unnoticed. Â Have you ever wondered what it would be like to be a homeless person; to live a life of abject misery with no hope or respite in sight? Â 
If so, Who Lied and Said We Left The Garden of Eden? Â is a must read for you.Daniel Martin is eminently qualified to chronicle the homeless condition. Â His own personal journey through the mean streets of Texas and California began as a teenager when he turned to drugs as a way of escaping his Christian fundamental upbringing.
Soon he was routinely committing burglaries to pay for his drug of choice: speed. It was just the beginning.  Before he reached his 18th birthday he was a ward of the state and soon thereafter, he found himself living out of a shopping cart, selling his body to buy drugs.Martin's story is as much about the devastation of addiction as it is about homelessness. His life was a long, tortuous journey through treatment and rehabilitation centers where staying clean and sober was the only thing that truly mattered, and each success seemed doomed to a corresponding failure.  
It was not until he did a stint in Norwalk State Hospital's Cider house (made famous in Ken Kesey's One Flew Over the Cuckoos Nest) that his life began to turn around and he was able to take the first few faltering steps toward being the man he is today; a husband, father, and small business owner.Literary purists can find much to criticize about Martin's writing style which tends to ramble and be disjointed in places.  
On the other hand, I found his writing both effective and disarming; and at times, I could almost feel his hands tugging on my lapels, his eyes plaintively beseeching me to listen carefully to what he had to say.
Who Lied and Said We Left The Garden of Eden contains a powerful message of hope, faith and perseverance.  It also chronicles one man's struggle with the most dangerous enemy in his life—himself.  Read this book and you will never look at a homeless person the same way again.  I guarantee it.
Who Lied and Said We Left the Garden of Eden?
Daniel Ray Martin
www.outskirtspress.com/danielmartin
Outskirts Press Inc. August 2008
Paperback
119 Pages
Reviewed by Ron Standerfer for Blogger News Network, November 2008
Ron Standerfer is a freelance writer and photographer who is a frequent contributor to Blogger News Network.  His latest novel, The Eagle's Last flight chronicles the life of an Air Force fighter pilot during the Cold War and Vietnam years.  Details of the book can be found on www.theeagleslastflight.com.