Every Animal Has A Tale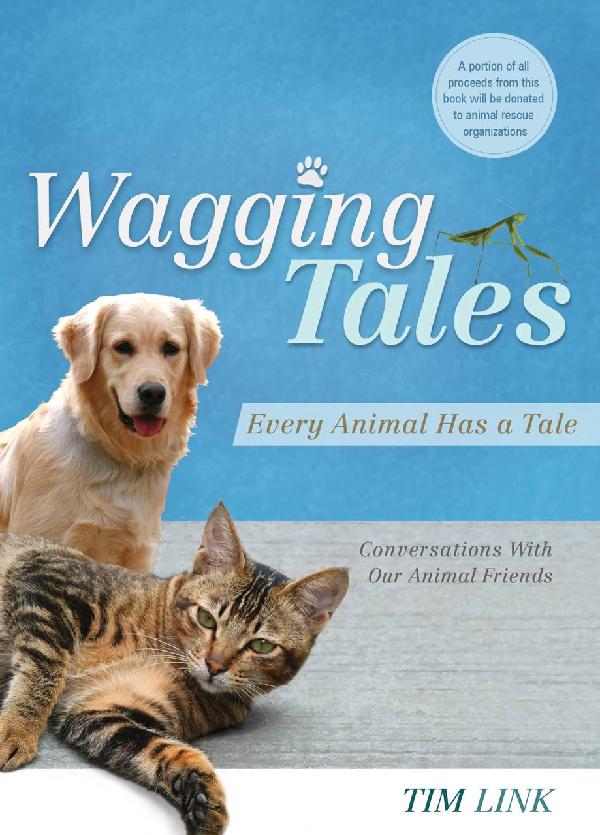 I guess you could liken Tim Link to a modern day Dr. Doolittle. Tim has the unique ability to communicate with animals and Wagging Tales explores some of his adventures. And fun they are.
Tim actually spent most of his working life in the telecommunications world. In 2004 he discovered his unique ability and started experimenting with first his own pets, then friends, and finally the local animal shelter.
Yes, I know you are all pretty skeptical of someone talking to cats and dogs. Indeed I was. It sounded a little fishy, it sounded so outlandish that it was with great misgivings that I actually picked the book up.
Man that talks to animals, junk science, grumble, grumble….. You get the idea I am sure.
Actually I like the book, the stories are endearing, and while I might not buy into the thing, it is clear that Tim Link does care a great deal about our furry friends. For that aspect alone I have to applaud him, so many people have pets and ignore their wants and needs.
However if the anecdotal stories told by Tim are true, maybe he might just have the skill's he talks about. Certainly the pets owners seem happy with his work, as do the pets themselves.
Even if you don't buy into the telepathy aspect there is much in this book that is of value. I think that it is laudable that people adopt abandoned pets from the local animal shelter. It is important to understand though that this cat or dog has an unknown background, and indeed may well be happy in the shelter environment. Adapting to a new home is stressful on our little friends. Indeed I find it stressful when I move. A new city, a new country, on one occasion a new continent. I love the excitement of change, but there are so many unknowns that stress has to be part of the equation.
I am sure that pets feel the same way. If you are planning on adopting a pet, please be considerate of the pet. While many people mean well, they do not quite understand the animal mind. It is not unknown for a pet to be adopted, only to be returned once again because it did not fit in to the families ideas. Often the problems are minor, and just a few changes can resolve them to everyones satisfaction.
You don't have to buy into Tim Link's telepathy ability to enjoy Wagging Tails.
You can get your copy from Amazon. There is also a companion web site worth a visit.
Simon Barrett