Powerful Secrets to Prosperity, Relationships, Healing and FUN!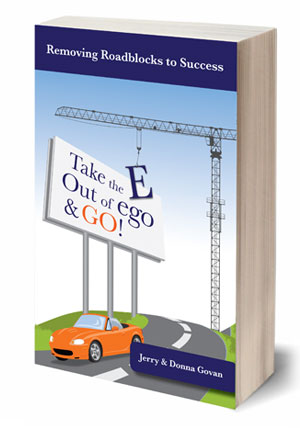 I liked this book for the simple reason it actually mostly made sense. One of the biggest obstacles facing us are our interactions with others. It is easy to offer the sage advice of how you treat people governs their reciprocity. There are many exceptions, and I could happily write a book about them based on my adventures here with Blogger News. But for the most part, I am in agreement with the authors. Life is not a challenge, it is an opportunity.
One of the biggest personal issues when trying to move forward in business or indeed just life in general is our own ego. Jerry and Donna Govan have some great ideas on how to take the E out of ego and go.
One of the aspects that I did enjoy about this book is that rather than talk in hypothetical terms the authors use their own real life examples. To say the least Jerry has an entrepreneurial streak in him, there must be something in his genes! At one time or another he seems to have been involved in many diverse business interests, from manufactured housing, Mexican restaurant chains, and even a bit of faith healing, this is a guy who gets around.
Jerry Govan has spent his life creating business enterprises, not all have been successful, but Jerry is nothing if not resilient. A fine example of the saying 'when one door closes, another door opens'. Some might just label him an optimist, but that would be incorrect. What the book reveals is a man with drive, a drive to succeed, but also a drive to help others at the same time.
Many of the anecdotes in Take The E Out Of Ego reveal a deeply caring man. Many of his triumphs were also triumphs for those around him. Even when things were not going well Jerry Govan took it in good humor, and adopted an approach that I have certainly also used over the years. The saying 'give to get' is so true, in desperate need of a project, rather than work the phones day and night, Jerry Govan volunteered his time for a worthwhile cause. I am always amazed at how well this seemingly asinine idea works! In fact I will share two stories with you, I found myself in a new city and had no job, the want ads in the paper drew a blank, a little bit of research though revealed a company that my skill set fit. I walked in asked to talk to the boss, and volunteered my time. The next week I was on the payroll.
I did the same thing in another city, I found that there was a Computer Learning Center that specialized in offering courses to low income families, after two weeks I was hired on as the lead instructor and course developer.
I am in total agreement with Jerry Govan, take the E out of Ego and GO, you can not lose! Actually the only thing that you have to lose are the shackles binding you to where you are today. Many times I have heard 'you can be whatever you want to be'. That is not far from the truth, at age 53, I may be a little old for that Olympic Gold I dreamed about, and my chances of making a trip to the Moon as an Astronaut are somewhat slim. But there are so many other things that I can do, and have done.
I liked Take The E Out Of Ego & GO a great deal, this is a book that has some great advice for anyone looking  for some solid advice on how to advance both your personal and professional live.
You can get your copy from Amazon. There is also a web site to accompany the book.
Simon Barrett