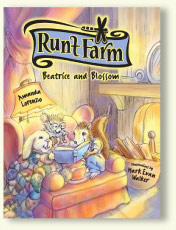 This is the second book in the Runt Farm series and very much picks up where the first book ended. Kitten is missing from the cast of characters, but the rest of the gang Tooth, Cletus, and The Peep are still very much in evidence. In Runt Farm – Beatrice And Blossom, Amanda Lorenzo introduces us to two new characters Beatrice who is a small bunny rabbit, and Blossom who is a squirrel.
Mark Walker has maintained his delightful pencil style sketches used in Runt Farm – Under New Management and they are a rich addition to the overall book. In fact Mark, if you happen to read this review drop me an email, I would love to see some of your other work.
Amanda Lorenzo once again has come up with a strong storyline, one that children will find entertaining, and also educational. This is a vital combination in this genre of book. And also once again she included a glossary at the back of the book. All of the words that might be a stretch for a young mind are explained, she also thoughtfully includes the pronunciation. I do not think I have seen this done before by an author, but it is a great and innovative idea.
From a parents perspective the Runt Farm series can be used as a fabulous teaching tool. I can think of a dozen different concepts that you introduce while reading this book to a child. Certainly family values and friendship are at the forefront, but also sharing, and helping others are significant concepts that are explored.
The story opens with a truck taking a load of rabbits to market, Beatrice is the smallest one, so small that she falls out of the hutch, and finally off the back of the truck. Note to parents: be prepared for the "Mommy, why are they taking the rabbits to the market"?


Cletus and Tooth find Beatrice and take her home with them to Runt Farm. The next arrival is Blossom, a squirrel that Beatrice discovers deep in the woods. Blossom has his foot caught under a large rock. With some team work Blossom is freed and joins the rest of the bunch at Runt Farm.
The friends then share various adventures, Blossom it turns out is not your average squirrel, he is afraid of trees, leading to an adventure all on its own!
What I like is the way that Amanda has broken the book into small standalone segments, it is not a book that a child or parent will feel the need to try and tackle in a single sitting. Rather it is one that could be used over several 'bed times'.
There is a web site to compliment the book, at the time of writing this review it is still under construction but please visit it. You can also order your copy from Amazon.
Simon Barrett