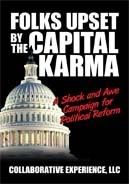 Folks Upset by the Capital Karma
Collaborative Experience, LLC
Author House (2007)
At the very beginning of American political history, the written word was the medium used to transmit frustrations, ideas, and even revolutionary calls for action. The political pamphlet was a powerful tool that helped shape the collective social dialogue. Print ruled, until the radio came along.  Soon radio would pass the written word, and a few decades later, television would replace radio as the dominant medium for our national political dialogue. However the Internet revolution has brought with it a revival in the written word as an effective mass communication tool for our political thought. Like the political pamphlets of early American history, the book Folks Upset by the Capital Karma reaches out to the masses to join together in a third party movement in an expression of discontent against what American national politics has become.
However before one can start a third party political insurrection, they must come up with a way to be heard over the political white noise that prevails in our media today. In short they need a gimmick, and the authors of this book came up with a good one. They have written this book in a form that they call political eroticism. Their third party is named Folks Upset by the Capital Karma or F.U.C.K. for short.
Much like a sexual experience this book is written in 12 steps. First is "The Arousal" a.k.a. waking up the masses for action, ending with "The Climax" and "The Afterglow," a.k.a. electoral victory. The small chapters in between focus on topics like the national debt "The Missionary Position", getting their candidates presentable to voters, "Rear Entry," gaining political knowledge for their candidates, "Give Head Early and Often." The highlight of this book by far was step 10. In this too small section, co-author Tricia shares her experiences as a post-Katrina volunteer, and a survivor of Hurricane Rita.
This book is well written, easily readable, and very short. Folks Upset by the Capital Karma could be seen as a throwback to the political pamphlet tradition combined with a 21st Century web presence. If you are fed up with the current political system, then I suggest that you not only read this book, but visit the F.U.C.K website http://www.foupcaka.org/ I think any effort to get more people active and aware of what is going in on in the American political system today is praiseworthy. I consider Folks Upset by the Capital Karma to be a fine wakeup call for an electorate that has been sleeping for way too long.
You can buy the book right here.