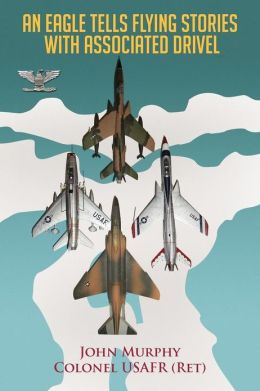 Despite its somewhat misleading title, John Murphy's new book, "An Eagle Tells Flying Stories With Associated Drivel,"  is a robust autobiography that takes the reader on a fascinating journey, starting with remembrances of his childhood years, and ending at the twilight of a long, if not frustrating  career  in the military; a career that the author himself admits left him feeling somewhat disappointed in the end.
Readers of books like Murphy's usually try to categorize the author early on, in terms of what he did,  as well as when and where he did it.  Typical questions might be, what kind of aircraft did he fly and where did he serve?  For example: was he a fighter pilot or perhaps a tanker/transport pilot during the prop-driven days? or, was he on active duty during the Cold War or maybe in the Air National Guard?  If this is your reading style you might have a tough time following the twists and turns of the story line in the beginning because the answer to the  above questions is John Murphy was all of the above and more. This is not necessarily a bad thing; and in fact, the diversity and unpredictability of his life makes the book all that more interesting.
In telling his story, Murphy employs a blunt, in your face style of writing that leaves no doubt in the readers' mind about how he felt about the people and events he was describing.  Furthermore, there were places in the book where the narrative takes on a decidedly "tell -all" flavor. For example, in the part of the book where he was a fighter pilot during the Cold War he  relates numerous anecdotes about the carrying-ons and indiscretions that took place at all organizational levels from the squadron pilots, to the most senior officers in command.  Needless to say, these anecdotes make for extremely interesting reading!
The bottom line is, that John Murphy is a skilled and adept storyteller whose long and sometimes unusual military career provides an ideal platform for showcasing those skills. "An Eagle Tells Flying Stories With Associated Drivel" is a good read and I highly recommend it.
"An Eagle Tells Flying Stories With Associated Drivel" by John Murphy is published by AuthorHouse. Paperback editions can be purchased at Amazon and Barnes and Noble. It is also available at Amazon Kindle.
Ron Standerfer is a novelist, freelance writer, book reviewer, and  photographer whose articles have appeared in numerous news publications including online editions of the Chicago Tribune, USA Today, and the Honolulu Star Advertiser. He is a member of the International Travel Writers & Photographers Alliance (ITWPA) and American Writers & Artists Inc (AWAI). He is a retired Air Force fighter pilot who flew 237 combat tours in Vietnam War. His novel, The Eagles Last Flight, chronicles the life of an Air Force fighter pilot during The Cold War and Vietnam years. He also publishes an online magazine, The Pelican Journal.