German hospitals are frantically unlocking and dusting off delivery rooms everywhere as the nation prepares for a dramatic surge in births nine months following the soccer World Cup 2006 held here last summer.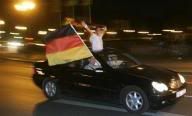 The month-long German "fairytale" of soccer, sunshine and success (certainly as far as the German team was concerned) last summer was an orgy of, uh, soccer, sunshine and success – and something else, too, it seems. But all fairytales must come to an end and now we're back to hard reality again and how do you like the moral of the story now, buddy?
Reproductive scientists are predicting a 10 to 15 percent jump in births within the next month or so and attribute this phenomenon directly to "biological factors" related to people being in a relaxed and good mood and passed out on beer nine months previously. The party mood which gripped the nation seems to have had a positive effect upon couples who had struggled for years to conceive once their party mood had ended.
The first World Cup Baby was delivered on February 11, following Germany's 1:0 victory over Poland. Let's see how the rest of the tournament develops.
* An Eigentor is an "own goal" in soccer, as in accidentally shooting a goal for the opposite team.
Come visit me at Observing Hermann…