In what has turned out to be the most devastating night of unbridled destruction and terror in Berlin since last year's Love Parade (or was it the one two years ago?), hurricane "Cyril" swept into the city late last night ripping off rotten tree branches, knocking over unattended garbage cans and waking dozens of law-abiding citizens from their well-deserved sleep. Many Berliners were further shocked to hear this morning that a bicycle which had been ordnungsgemäß (properly) parked at the newly opened Hauptbahnhof actually tipped over during the terrifying twenty minute storm.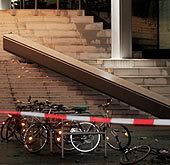 "I've never seen anything like this before," said one fireman who had never seen anything like this before. "As far as I can tell, the bike rack meets all the pertinent safety standards issued by the thirty-seven officially recognized bike rack control authorities in Germany. See those stickers? They're all up to date. And the bike itself also seems to be in perfect working order, too. Hmmm, of course it is, it's German made. A little dirty perhaps though…"
"We are at a complete standstill here at the moment," said one slightly panicked spokesman for the Deutsche Bahn at the Hauptbahnhof a bit earlier, at 3:38 in the morning. "We need to know exactly how such an unplanned thing could happen at such brand new and perfectly planned train station like ours and make damned sure that it never happens ever again. After all, I occasionally ride a bike, too, you know. And so do my children. Or they would, if I had any. Believe me, safety always comes first here. And besides, as you correctly noted, it's 3.38 in the morning at the moment and we are always at a complete standstill here then."
Despite all of the unspeakable destruction and sheer terror and water puddles everywhere, train service will continue this morning as regularly scheduled. It has to. Another shock of this magnitude would simply be too much for Berlin to take.
Come visit me at Observing Hermann…