Ist Tempelhof doch noch zu retten? Does this airport have a chance to survive after all? It appears that if enough Berlin voters care, good old Flughafen Tempelhof might just beat the odds and be allowed to stay in operation after Berlin Brandenburg International airport opens in 2011.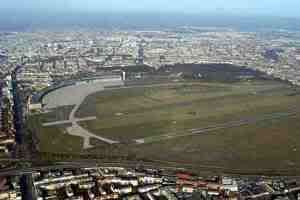 Three business associations have begun a campaign to keep centrally located Tempelhof open. And who should know better than they if this airport can hold its own or not? They believe that Tempelhof should be dedicated to smaller business aircraft and regional operators which will otherwise play second fiddle to the bigger airlines at Brandenburg. The businessmen argue that Brandenburg "will not have enough capacity from day one… Tempelhof has around 200,000 movements a year, which could easily be increased to 1.5 million."
At any rate, if 170,000 signatures in favor of a referendum can be gathered by February 14, the real referendum can be held some time next year. And should 25% then vote in favor of keeping the airport, it's going to be a whole new ball game.
The Germans like to say: Totgesagte leben länger (those claimed dead live longer), so who knows? Maybe they might just pull this one off.
Come visit me at Observing Hermann…