After weeks of secret talks with the highly biodegradable ex-Vice-President-always-a-Vice-President Al Gore, Berlin's Economic Senator (no joke, they really have one – the Senator, not the economy) Harald Wolf (no relation to Harald Schmidt) has warned that Berlin may also try and host an additional "Live Earth" concert this summer. Should the climate not stop changing within the next three or four days, that is.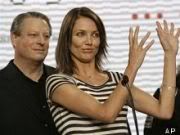 Gore is of course planning a series of concerts to bring attention to the threat of global climate change and these planned Live Earth concerts will be taking place on July 7 in Shanghai, Johannesburg, Sydney, London and other yet-to-be-announced cities in Brazil, Japan and the United States, unless somebody can figure out how to stop them first, that is. More than 100 artists are being forced  by The Alliance for Climate Protection to take part in these pop events, having been made an offer (several billion viewers worldwide) they just couldn't refuse.
Although forced to admit that London is actually the planned venue for the European contribution to the series of ultra-mega-etc. concerts, Wolf believes that Berlin's image as "interface" between East and West (who does North and South these days?) might give it a chance to participate in the already annoying pop event, as well. "Maybe we could be London's dressing room or something," he is quoted by somebody somewhere as saying.
Come visit me at Observing Hermann…