If you believe everything you read, and I would never recommend doing this, of course, Germany suddenly finds itself in the wonderful world of economic upswing. Signs of this Aufschwung are being reported everywhere and it appears at times that the country has been "afflicted" by a giant and completely unexpected Wohlstanswelle (wave of prosperity).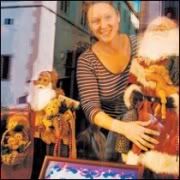 Some businesses are actually having trouble finding enough new employees to hire ("der Arbeitsmarkt ist leer gefegt") and Germany's notoriously high unemployment rate has finally dropped below 10%. There are very big regional differences here or course, Berlin is not profiting from any of this lower unemployment yet, for instance, but the German economy is clearly booming for the first time in years and all the other important economic figures out there seem to point to what could be a prolonged recovery, too.
Provided, of course, the Germans finally begin consuming.
And that's the crux of the biscuit. That is one reason why we are now hearing political parties and unions, this time backed by a wide variety of economic experts, already making clear demands for higher wage increases in the coming year. "Private consumption is the heart of the economy," says Peter Bofinger of the Sachverständigenrat. "If it doesn't start to beat hard and steady soon, then it doesn't look good for further recovery."
In other words, the moment of Wahrheit (truth) has finally come for the German consumer. Christmas spending season has now begun and we will all shortly see just how geil Geiz ist. Now that all the lights are finally green and pointing to go we will finally find out if the German consumer is really as stingy and penny-pinching as he and she say they are!
So there we have it. If you believe everything you read, and I would never recommend doing this, of course, the German consumer will decide if a new Wirtschaftswunder will gain a foothold in Germany again or not. Stay tuned. I certainly will. The numbers are sure to be out before the end of the month and I can hardly wait.
And Merry Christmas, or Bah, Humbug! Whatever you prefer or comes first, I mean.
Come visit me at Observing Hermann…