A team of archaeologists from Berlin's Free University made a stunning discovery over the weekend, dusting off or "unearthing" several intact specimens of what had up until then believed to have been the extinct West-Berlin SO 36 (South-East 36) vegatarian humanoid. They were discovered loudly protesting the construction of McDonald's first restaurant in Berlin's Kreuzberg district.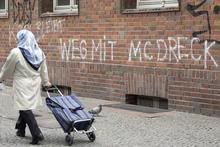 "This is an incredible find," said Dr. Christian Huber, a senior Free University archaeologist and head of the dig team. "Imagine: At one time, this entire area was filled with these spooky, bony, hairy, walking civil disobedients, demonstrating against anything imaginable. But that was long before our era, of course. That a handful of them could have survived unnoticed like this all these years defies the imagination."
The bizarre group of troglodytes was first noticed by two observant Turkish children riding past the construction site on their bicycles. "It seemed like they were trying to start a fire," one of them said. "You know, to keep warm or something. Only it's been hot and humid around town these past few days and that made us suspicious. And besides, some of them were eating grass, too."
The highly-irrational and anti-bourgeois West-Berlin SO 36 vegetarian humanoid is believed to be particularly sensitive to American symbolism of any kind and always reacts aggressively when confronted with it. Some of the scientists believe that the mere thought of a McDonald's in Kreuzberg, the last place on the planet other than North Korea that doesn't yet have one, compelled the group to venture out from its top secret hiding place. Others believe that the coming G8 summit in Heiligendamm and its accompanying obligatory protest movement could also have had a hand to play in this, too.
"The evidence of an evolutionary link between the modern Berlin Kreuzberg human and these crude creatures has been sparse at best up until now," said Dr. Huber. "But if we can finally manage to actually catch one of these things, and bath him properly, of course, we might be able to learn more about our own strange selves – and finally be able to explain why the SO 36 species became "extinct" in the first place. But let me tell you, they're hard as hell to catch. Look out, here comes another rock!"
Come visit me at Observing Hermann…