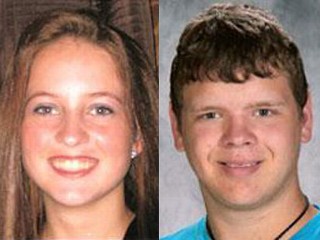 Teenagers Christina "Paige" Alley 14 and her boyfriend Levi Carlson ,16 left a high school football game nearly a week ago and has not been seen since. Their families are worried about the two of them as they desperately search for the. They disappeared in Carlson's stepmother's missing maroon 1996 Toyota Avalon. An Amber Alert has now been issued for Paige.
Levi's family fears this mostly due to a series of tragedies in his life beginning with the death of his grandfather and his sister's miscarriage to a fight he had with his father which caused his stepmother to be admitted into the hospital.
His father, Denny Carlson, said that Levi has been angry and questioning his relationship with God. "We want him to come home where we can love him. We can get through anything as a family," Carlson told ABCNews.com.
Paige's family set up a web site after she disappeared and they described Levi as being known to be bipolar and off his meds. Levi's dad admitted that his son was bipolar and his son hated being called that label.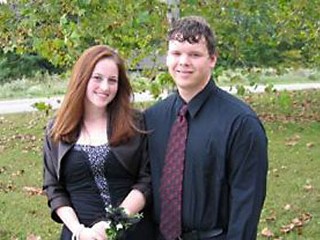 An attempt to get an Amber Alert issued earlier was denied by the Missouri State Highway Patrol because this case did not appear to meet the criteria since there was no evidence that either of the two teens had been abducted according to Major John Farmer of the Clinton County Sheriff's Dept.
"Originally we thought it cold have been just a runaway deal," said Farmer.
The Alley family put pressure on them so the alert was finally issued earlier this weel. Apparently since it was issued though, it must mean that Levi has been formally named a suspect in Paige's disappearance.
Farmer did want to point out that no one knows where these two teens are or what they are doing but the longer they are missing and with the evidence about the boy being off his medication and the fight with his dad, they are more concerned about the girl's safety. He said this is all still speculation.
Paige's Dad Jeff Alley thinks his daughter would have contacted her family by now is she had the chance. "She is 14 years old and she's with a boy that stole a car," he said. "Yes, I think she's in danger."  He says his daughter was always good about staying close in contact with her family.
Alley said his daughter was at the Lathrop High School football game for a band performance Friday evening when Levi started calling her. Paige's friends told police that she was getting agitated with the calls during the game and that Levi was considering suicide. Paige asked her band director if she could be excused early at halftime so he gave her the keys to the band room where she could change back into her street clothes. Later a school janitor found the keys on the floor near the band room. Paige's flute, piccolo, band uniform and cell phone were later found in the band room.
Students reported that the couple had been seen walking around the track together. They say the couple had been dating for several weeks. Paige's father notified the police when he couldn't find her after the game when he went to pick her up. Levi's father called police when he returned home from visiting his wife in the hospital and found her car missing. Neither of the teens have their drivers license yet either.
Both parents have issued public pleas to the kids.
"Come home if you can," Alley said, urging his daughter get to a phone a call him if she can or email him to let him hear from her.
Carlson said of his son with his voice cracking: "He's just a hurt kids that made a really, really bad decision."
IÂ hope these two kids are found alive and well. My prayers will stay with them and their families. This has to be heartbreaking for all those involved.
Jan Barrett