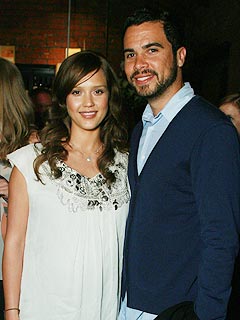 By Honey Gillard
As B(aby)-day nears for 26-year-old actress Jessica Alba, anxiety seems to be forming not from the baby but rather from making sure her house is baby-ready when the bun does decide to pop out of the oven – so to speak.
The 'Fantastic Four' star has been redecorating her entire house in preparation for the baby but says that she fears time is running out to finish preparing.
"I'm just trying to get my house ready before the baby comes."Alba told People magazine Wednesday night, at PEOPLE's Book Party for Christopher Gavigan; author of 'Healthy Child, Healthy World'.
"It's kind of hectic, it's getting close and the house isn't even ready yet."
Since the beginning of her pregnancy, Alba has went on a long-awaited vacation, that she says was already planned -Â baby or not. Alba claims that this time has been perfect to occupy all her free time and "to put all [her] energy" into.
"I'm not working so it's been a good place to put all my energy so it's been a nice distraction." Alba continues.
"I'm used to having to be somewhere all the time, and it's kind of the first time in my life where I really haven't been working in a while, and now it's just about the baby being healthy, the house being ready, and nesting, it's really different."
Jessica is, according to mtv.co.uk, decorating her nursery with organic products eco-friendly gifts.
"It's cool – I feel like I'm fully absorbing the whole experience." Alba concludes.
As well as preparing for the baby, Alba has been dealing with the 'baby apetite' and claims that it is starting to take control of her.
"I have to make sure that I'm eating more of the right nutrients and vitamins, but I'm not used to eating this much. I've had to take time out of the day to eat before I get cranky and rundown and tired. Before I was just like the energiser bunny." The star stated.
Alba is expecting her first child- reportedly a baby girl named Honour Warren -Â to fiance Cash Warren this coming June.
To read more from me, Honey, visit my blog – honeyz818.blogspot.com
Source: mtv.co.uk
             Tonight.co.za
            People.com