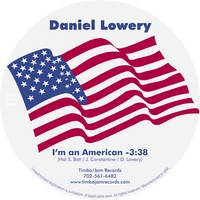 Dan Lowery makes his home in Vegas, he may not be a household name, but that might be about to change. He has a new video that was released on May 5, of course Blogger News has influence, and we managed to get permission to stream it.
July the fourth is a very special day, a day when everyone should contemplate what being an American really means. This tribute to our troops is so fitting on this of all days.
We at Blogger News wish everyone a happy fourth, and please take a moment to watch Dan Lowery show his support for our troops.
Somehow patriotism seems to have been relegated to the Country and Western crowd of late. But Dan Lowery shows that patriotism is alive and well in other musical genres.
Please check out his video, or stream the audio version.
The editorial team here at Blogger News, wishes everyone a happy Fourth Of July. Be safe, be happy, and above all, be supportive of our friends that can not be with us today.
"I'm An American," is the first single from Lowery's upcoming self-titled Timbo/Jam Records CD, is available at CDBaby.com, itunes and www.timbojamrecords.com .
Simon, Jan and Devon