---
Visiting our advertisers directly supports this site. Thanks!
---
---
Get More Traffic For Your Blog!

Blog Explosion brings hundreds of interested visitors to your blog - without costing you a cent.
---
BNN News Archive Page
---
&nbsp&nbsp&nbsp&nbsp&nbsp&nbsp
Thursday, March 23, 2006
Imagine Your Byline Here - Click Here To Write For BNN




Four Options For Afghanistan (Abdul Rahman)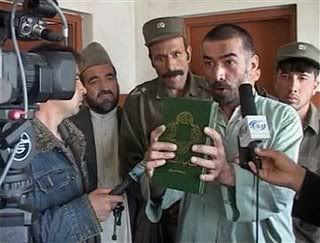 Many, many moons ago Americans spilt their blood for a people living far, far away in the hopes that one day, peace and freedom would blossom in a land only known for violence and hate.

Unfortunately freedom (specifically freedom of religion) was not part of the "packaged deal" when Afghanistan was liberated, leaving the post-Taliban democracy with four options when it comes to the trial of Abdur Rahman.


(MSNBC) KABUL, Afghanistan - Senior Muslim clerics said Thursday that an Afghan man on trial for converting from Islam to Christianity should be killed regardless of whether a court decides to free him.

Abdul Rahman, a 41-year-old former medical aid worker, faces the death penalty for becoming a Christian under Afghanistan's Islamic laws. [...]

Diplomats say the Afghan government is searching for a way to drop the case, and on Wednesday authorities said Rahman is suspected of being mentally ill and would undergo psychological examinations to see whether he is fit to stand trial.


Facing pressure from abroad as well as within, the Afghan government has several options it can choose, each one with serious consequences.




Execute Abdul: This would satisfy the "moderate voices" of tolerance, at least from the clerics who seem to have a better understanding of the brain than Afghan's psychologists (see next point).

Of coarse, this may cause the "return of the Taliban" as multi-national forces would be inclined to withdraw.


Declare Abdul Insane: This would satisfy most diplomats and relieve internal pressure. Although a nice loop hole, handing down a sentence like this would reduce the nation's medical society as to having the IQ of a box of rocks.

Even the Taliban were smarter than that.


Free Abdul: Would bring about many smiles across the west but probably increase terrorist recruitment levels ahead of the US military (but then again, so will the first option).

It may also cause religious riots--that is unless...



We Free Abdul via Koranic verses: Believe it or not, CAIR (Council on American-Islamic Relations) has the best solution. This would establish freedom of faith in principle and alleviate the pressure to riot in the streets.





Only time will tell which door Afghanistan will choose, although the "insanity plea" will not hold up towards public opinion (Christian, Atheist and Muslim). Unless freedom to worship (or not) is demonstrated in the Muslim region, Abdul "Deja vu" could happen again in Iraq.

Darnell Clayton publishes political thoughts on world events over on Hidden Nook.
---
---
Blogger News Network is advertiser-supported, and your visits to our advertisers help BNN to meet its expenses. Help keep us afloat!
---
posted by Darnell Clayton at 2:10 PM

Add this story to Digg &nbsp&nbsp&nbsp Reddit &nbsp&nbsp&nbsp Newsvine &nbsp&nbsp&nbsp Del.icio.us &nbsp&nbsp&nbsp Ma.gnolia &nbsp&nbsp&nbsp Spurl

---
&nbsp&nbsp&nbsp&nbsp&nbsp&nbsp
---
Sign up for Blog Soldiers and get 50 free credits!
---
Subscribe to BNN and get a daily bulletin of all our news postings.

---
Interested in writing for BNN? Want information on our news service?

Contact The Editor
Writing for BNN
BNN Editorial Policies
---
---