From the mouths of babes, a phrase that usually means something cute or blatantly honest has been said. Children can say the darnedest things, and they can make you smile, laugh, and shake your head at their innocent imagination and lack of inhibitions. It's a beautiful thing. But sometimes these same innocent  children are using that same innocence, to kill.
We read every day in the news stories of rape, abductions, and murder. The vast percentage of these crimes are committed by adults. What we do not here of in the same intense media attention, are the deaths of our young because of this very disturbing behavior. Young children are very sensitive to their peers impressions and view of them. Being called names now and again can be seen as teasing, and playful. But all too often it is abusive, cruel, and fatal.
Atlanta, Georgia. April 16/2009 was the last day of Jaheem Herrera's life, but no one could possibly see what was to come, or could we? Like any other eleven year old that morning, he was not that hungry and did not want to go to school. Every child of school age has acted that way at one or more times everywhere, no warning signs there. There are adults that feel that way from time to time. Who hasn't wanted to skip school or call in sick to work every now and again? But what happened this day is unthinkable.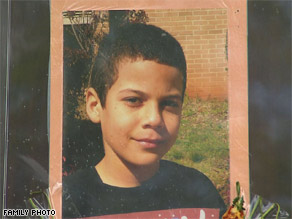 Jaheem  came home from school that day with a very impressive report card all A's and B's. His mother gave him a high 5 and started to prepare dinner as Jaheem went upstairs to his room. That was the last time he would be seen alive. His mother and sister found him hanging in his closet when he didn't come down for dinner.
If you look up bullying on the net you will find all kinds of descriptions and statistics on the subject, from calling names on the school bus to school shootings. There are many types of bullying listed and cases of fatal outcomes. Even cyber bullying has taken the lives of our young.
It is true that schools have anti-bullying programs and programs to raise awareness on the issue. Calling a child "gay, fag, queer, virgin, loser" are some of the slurs and attacks children use on each other. At 11 years old what did Jaheem know about gays, fags, or queers? In fact probably not much, but it was said to him in such an insulting and degrading manner that it must be a bad thing. He just wanted to make friends and go to school.
It is shocking to me that words said to someone on a computer could cause a child to kill them selves. "Block, delete, and report" are buttons in these chat rooms and sites that are just as easily used as "enter, and reply".
Is our Society raising children to think that they are on their own? Are we so concerned with our bills and providing their needs that we have forgotten the most basic one? Their protection. Should the schools be introducing other methods to combat this problem? Child counselors? And  by that I don't mean adults, but peers. Would a child be more likely to talk to someone close to their own age? Authority figures have never been seen as very approachable, no matter how nice they try to be. That's just the way it is.
Something has to be done, the words of Jaheem's mother, and yes I agree. For Jaheem and his family it is too late. But will we learn from it?
Suicide Hotline Numbers
National Suicide Lifeline: 1-800-273-TALK (8255)
National Suicide Hotline: 1-800-SUICIDE (784-2433)